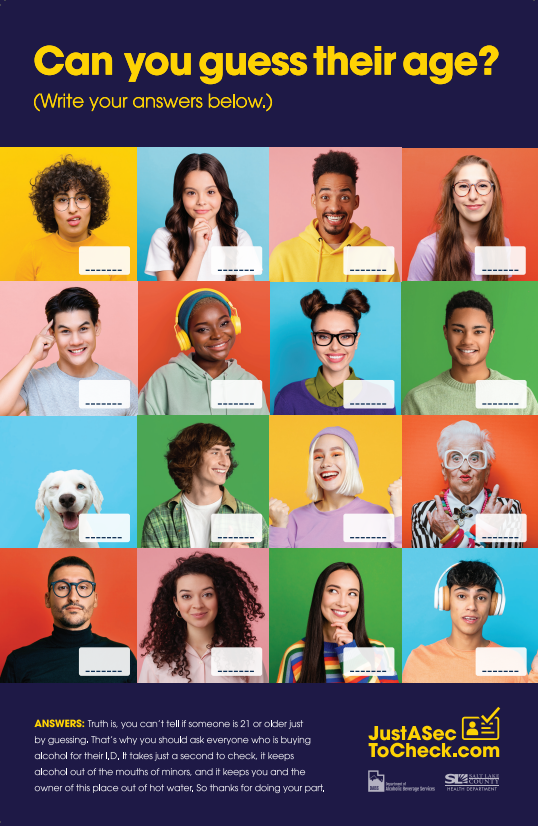 JUST A SEC TO CHECK
The Just A Sec To Check campaign provides support and resources to Utah retailers as they help keep alcohol out of the mouths of minors by taking "just a sec to check" somebody's ID before a sale.
The campaign is a collaborative effort from the Utah Department of Alcoholic Beverage Services, the Salt Lake County Health Department and the Utah Highway Safety Division's Eliminating Alcohol Sales to Youth (EASY) program.
In 2007, the Eliminating Alcohol Sales to Youth (EASY) alcohol compliance check program passed into Utah law. Because of the EASY program, local law enforcement can check alcohol compliance at retail locations that sell alcohol in Utah.
Since being implemented, compliance rates have increased each year, according to the Utah Dept. of Safety, with FY2022 ending at 92.87%.
EASY requires anyone who sells or supervises the sale of beer to complete mandatory training. The Utah Division of Substance Abuse and Mental Health administers the training component of EASY.
EASY RETAIL MANAGER TRAINING
Effective March 2019, all operation managers must take manager training within 30 days of hire. Otherwise, they must be removed as managers until they take the training.
COMPLIANCE & VIOLATIONS
In March 2023, state and local officials joined with industry experts to host two trainings for law enforcement professionals and for businesses that are licensed to sell alcohol. Review the presentations used in the trainings below:
Preventing Underage Drinking, pt. 1
Preventing Underage Drinking, pt. 2
Eliminating Alcohol Sales to Youth